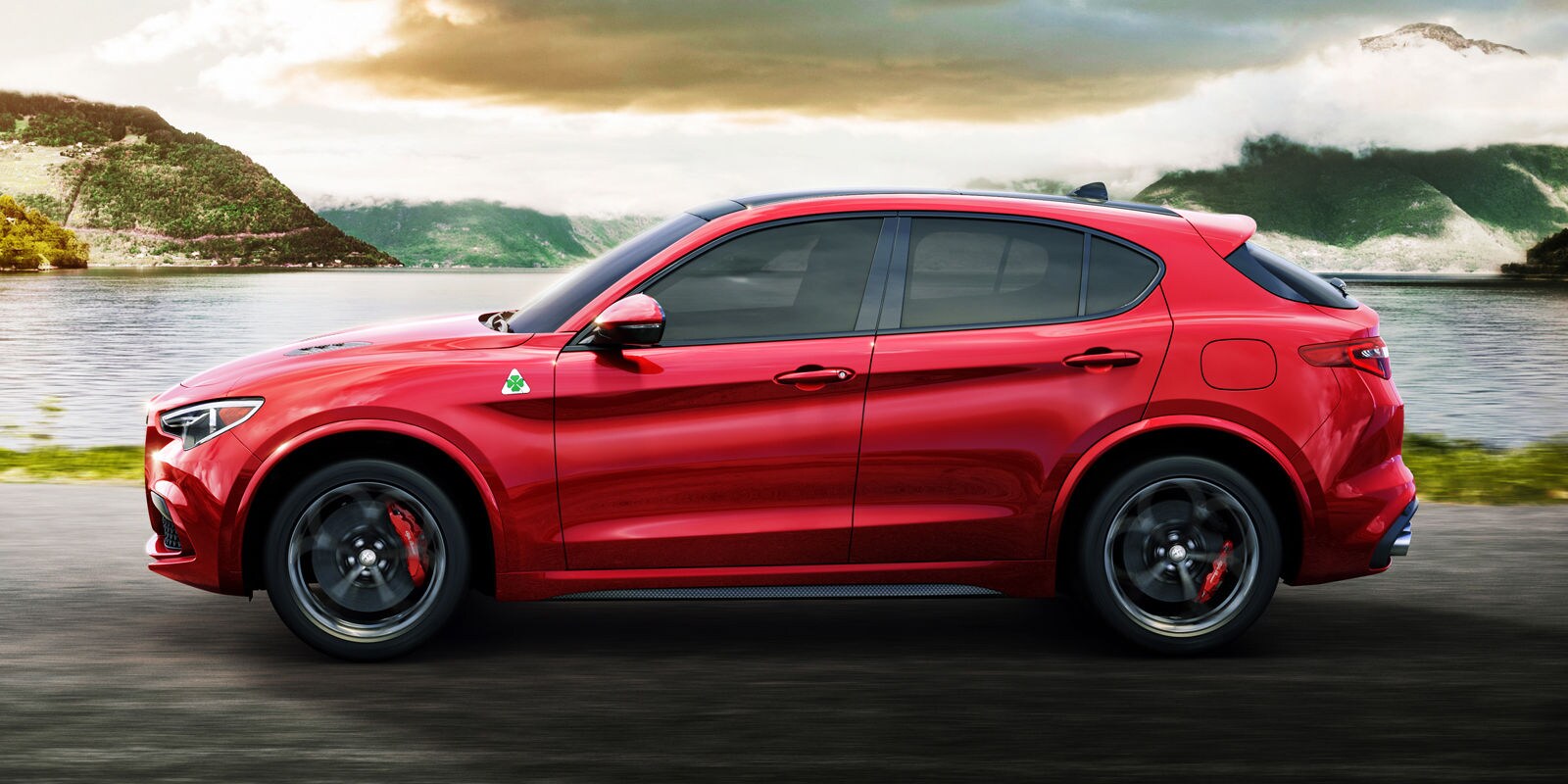 A New Legend is Born

Inspired by the Stelvio Pass-a beautiful, yet immensely challenging road in Northern Italy-the dreamers of Milan, engineers of Modena and artisans of Cassino have created the optimal vehicle for those demanding the highest level of performance and utility in equal measure.

The SUV for the S Curves

Introducing the Stelvio Quadrifoglio, featuring Best-in-Class 505 horsepower4, ultralight materials such as carbon fiber and aluminum and an eight-speed automatic transmission with standard steering column-mounted aluminum paddle shifters.

KING OF THE RING

Alfa Romeo has been making history for over a century. With the birth of the Stelvio Quadrifoglio, Alfa Romeo has once again rewritten the book on performance. In a historic showing that can only be described as masterful, the Stelvio Quadrifoglio became the fastest SUV in the world39 by setting the record for quickest lap by an SUV on the Nürburgring with a time of 7:51.7 minutes.

 

 


Dominating Power

The Stelvio Quadrifoglio is powered by the most powerful production engine ever created by Alfa Romeo. It embodies the Brand's devotion to next-level technology and race-inspired performance.

ALL-ALUMINUM 2.9L TWIN-TURBOCHARGED V6 ENGINE
The Stelvio Quadrifoglio offers superior performance with 443 pound-feet of torque5 and Best-in-Class 505 horsepower4 born from its highly-innovative, All-Aluminum 2.9L Twin-Turbocharged V6 engine.

Dynamic Driving Control

Sporty and seductive, the Stelvio Quadrifoglio takes the concept of first-rate dynamic performance to a whole new level. It starts with a double wishbone front suspension and a semi-virtual steering axis. At the rear, a patented Alfa Link axle design with vertical rods enhances performance, driving pleasure and passenger comfort at the same time.


BUILT FOR BALANCE

Leveraging advanced engineering and resilient materials such as carbon fiber and aluminum, the Stelvio Quadrifoglio delivers near-perfect 50/50 weight distribution across both the front and rear axles.
 

 


Italian Driving Ingenuity

The Stelvio Quadrifoglio sets a new standard of excellence with its Alfa DNA Pro Drive Mode Selector. Featuring Dynamic, Natural, Advanced Efficiency and Race Mode, driving behavior can be changed in an instant for optimal handling




The Spirit of a Purebred

To redefine a category, one must stir emotions with seductive styling, driver-centric details and a vigorous stance. Lighting the way are premium standard Bi-Xenon Headlamps with Adaptive Forward Lighting. As the final touch, the iconic triangular grille is sculpted within the front fascia to form the signature Trilobo, an Alfa Romeo design staple.




Immediate Response

The Integrated Braking System on the Stelvio Quadrifoglio helps ensure a near instantaneous response for reduced braking distances. To intensify the thrills while stepping up safety and security, carbon ceramic Brembo brakes are available.

Safe and SECURE

With a combination of state-of-the-art driver assistance technologies and safety features, the Stelvio Quadrifoglio helps keep drivers on the offensive.

Standard:

Forward Collision Warning Plus9
Autonomous Emergency Brake

Available Driver Assistance Dynamic Plus Package includes:

Adaptive Cruise Control with Stop and Go10
Automatic High-Beam Headlamps
Infrared Windshield
Lane Departure Warning11

Master of the Elements

Delivering all-weather performance with a powerful active transfer case featuring advanced active clutch technology, the Q4 All-Wheel-Drive System continuously monitors road conditions to deliver ideal torque distribution in every situation7.